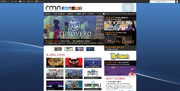 rpgmaker.net is a website dedicated to indie game makers and players. Despite the name, the site accepts games made with various engines, not just RPG Maker. The website was founded in 2007.
Games
[
]
The website provides a database where users can search through a large amount of games that were created on many different game engines. Users can filter their searches by providing the engine that was used, status, tags, minimum rating, check for download available, commercial games, and how the games are sorted.
The tags that can be chosen are:​​ action, adventure, arcade, comedy, cyberpunk, dark dungeon crawler, fantasy, fighting, first-person, futuristic, historical, horror, modern, multiplayer, music, mystery, noir, oldschool, online, overhead, platformer, post-apocalyptic, puzzle, rpg, sci-fi, shooter, sidescroller, simulation, space, steampunk, strategy, tactics, text, visual novel and western.
Just below the filter options is a button that will randomize the list of games.
Development
[
]
Developers can receive feedback for their images and demos of their games in the developement portal. Also found in the development portal are databases for tutorials, articles, blogs, scripts, utilities/plugins, resources and game engines. To the right of some of the databases is a filter options box where you can select a game engine.
Events
[
]
The website hosts several events for game developers. In the events portal, You can look at current and past events.
On the page for the event, it provides links to the graphics that are being used and it lists a ton of information regarding the game. At the very bottom is a list of the participants in the event.
Community
[
]
The website also provides a forums and IRC for developers and players to communicate. 
Store
[
]
The website has a store where you can purchase game engines and anything else related to rpg making. The store also has a RPG Maker Network Music Pack, which was created by users on their site. The music pack is for free.
Trivia
[
]
As of July 14, 2014, the most downloaded game on the site is Pom Gets Wi-Fi, with a total of 135,940 downloads.
The first game submitted to the website was Lexico, which was submitted on June 2, 2007.
External Links
[
]