Mature Content Warning

This page Zombie's Retreat contains mature content intended for audiences over 18 years old which may be disturbing to some. VIEWER DISCRETION IS ADVISED.

Content Warnings: Graphic Sexual Themes
Zombie's Retreat is a RPG maker game created by Siren.
About
[
]
"Welcome to Camp Zomi! A lush resort located in the heart of The Zomi Woods: A region well known for it's gorgeous sights and rich history.  Looking for a place to get away? Camp Zomi's campsite is full of fun activities!  Take a dip in the cool waters of Lake Zomi, hang out with friends in the Rec Center, or take a refreshing hike through our beautiful trails. Your Deluxe Retreat is just a phone call away!"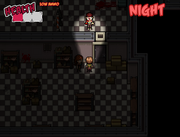 Zombie's Retreat is an action RPG involving a young man and his camping retreat. What's intended to be a bonding experience turns horribly wrong when a sudden outbreak spreads across the camp.